AQ Construct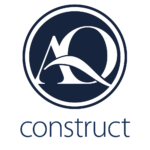 You have come to the right place at AQ Construct for the modification of piping systems for climate and drinking water systems and the assembly of climate technical equipment, for example cooling machines, heat pumps, air handling units etc.
Properly working drinking water systems are important to keep growth of the legionalla bacteria under control. This means: no dead-end piping systems, correct and properly operating check valves at the right location, proper flow etc. Often, the piping system needs to be modified for this. We can take care of this for you. For both drinking water systems and process water systems.
You can also get us involved for the assembly of climate systems. Our staff specialises in mounting and connecting of cooling machines, heat pumps, air handling units, induction units etc.
We employ experienced and well trained personnel who provide you with the same high quality service you always receive from AQ!
Get in touch with AQ Construct
AQ Construct
Tel. 088 – 1233477
Email: info@aqconstruct.nl