Sealing ducts: next level sustainability
Using AEROSEAL®: from LUKA-A class to LUKA-D class of airtightness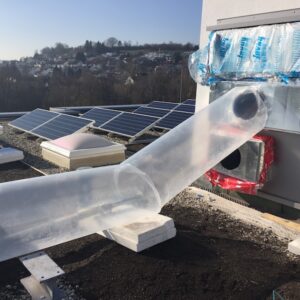 As you might know, air ducts are not airtight; there is leakage at the joints and seams. Research shows air leakage in air ducts can reach up to 30%! And up to 50% in air ducts which are more than 20 years old. A large amount of air and energy generated is lost along the way and does not reach its destination.
This loss of valuable air goes hand in hand with high energy costs. Treating new and existing air treatment systems with AEROSEAL® will close these leakages in an efficient manner. 
AEROSEAL®: its technology
AEROSEAL uses a unique technology for efficient and effective closing of existing air ducts from the inside. The patented process has been successfully used in more than 125,000 air ducts globally. The sealant is water soluble, is mixed with heated compressed air and transformed into a fog-like consistency. This fog will be blown into the air ducts and sticks to the edges of the holes.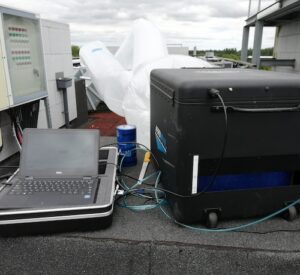 The holes will be sealed after a few minutes. This process achieves the same results as welding or meticulously sealed off air ducts. Holes of up to 1.5 cm in diameter can be sealed, the sealant can resist a pressure of up to 2000 Pa. Airtightness class D (ATC 2) is guaranteed when using AEROSEAL®.
At AQ Group, we can make your entire climate system greener. We are able to make entire air treatment systems more sustainable by installing our circulair AQ Circle-R air filters, using heat recovery, replacing AC-ventilators with EC-ventilators and upgrading air ducts with AEROSEAL®. Click here for more information.
Benefits AEROSEAL®
AEROSEAL® has a number of specific benefits:
Efficient to use. Energy savings can be realised quickly without any large and costly renovations. We can seal off 5 duct systems, ducts with a length of 600 m or approximately 2,700 duct surface.
Improved level of comfort and hygiene when working. This includes a guaranteed even level of distribution of air in the building, no noise pollution due to leakage, improved CO₂ levels and therefore a better indoor climate.