Cooling and heating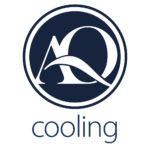 Climate change requires climate systems to become more energy efficient. This efficiency should not only come from equipment used but also from knowledge and expertise in the field of cooling and heating. At AQ Cooling, we offer advice, support and services on sustainable solutions for cooling and heating of buildings and industrial processes on a daily basis. There is a growing need for a combination of equipment and services. AQ Cooling envisions playing an important part in this.
Besides 2-pipe and 4-pipe heat pumps, cooling machines, fancoil units and ventilation systems, you will also find a team of motivated professionals at AQ Cooling. Experts, offering advice, support and services to installers, consultants and the industry.
All our members of staff are F-gas and VCA certified. We work for companies for whom cooling processes and climate control are of the essence, not just for running their business but also to create a comfortable living and working environment.