Delivery and assembly of new air socks
Air socks can be used in different branches. Textile air hoses are easy to assemble in high spaces, they meet high hygienic standards and can transfer clean air, warm air and cold air.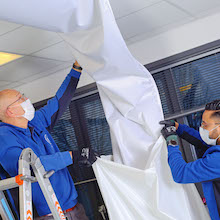 Various branches using air socks:
Sports facilities
Offices
Laboratories
(Food) industry
Retail
Swimming pools
Schools
Clean rooms
Range of air socks suspension
We can deliver all types and models. We can deliver circular, half-round, quarter-round and rectangular air socks. Our range also includes other options:
Material: we can deliver different types and qualities of textile
Colours: all colours imaginable can be ordered
Air distribution: suppression, injection, hybrid or membrane
We also deliver the following types of suspension for air socks:
Single suspension
aluminium rail with bead
aluminium rail with hooks
steel wire with hooks
aluminium rail with threaded rod
aluminium rail with steel wire
reinforced rail with Gripple
Double suspension
half-round air socks aluminium rail
aluminium rail vertical hangers
air sock velcro assembly
air sock with double rail
air sock with double steel wire
Special suspension
circular air sock freely suspended
double arch suspension
air sock with triple rail
Assembly air socks
Assembly of air socks is carried out by our own service company. Ensuring work is carried out as agreed and in a safe manner. This is warranted by our certifications on safety (VCA**), procedures (ISO-9001, ISO-45001) and the environment (ISO-14001).
Accessibility of assembly location and availability of the area are taken into account. This will be discussed and agreed with you before hand. Specific requests from the client will be taken into account during assembly. Single suspension, double suspension or specific suspension: anything is possible. Our engineers are experienced and well trained, ensuring an excellent level of service. This prevents any surprises from happening and ensures the work carried out is as agreed.