Maintenance and cleaning of air socks
AQ Group is expert in advice, assembly, maintenance, cleaning and servicing of all air socks' brands and models. Using these textile air ducts, we create a draught free and silent distribution of air. Textile air ducts have several advantages to traditional air ducts, including: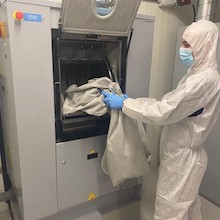 Faster assembly
No corrosion / rusting
Even distribution of air flow
Less draft
Easy to clean
Maintenance air socks
The air distribution capability of air socks might diminish after a certain period of time. This depends on several factors, including the type of prefilter used. Diminishing distribution of air will lead to an increase in energy costs. It can also cause draft as air is blowing out of the nozzles at heightened speed.
Cleaning as in new condition
It is important to clean and maintan air socks on a regular basis. Air socks will be as new after every maintenance session. Draught free and noise free air distribution after cleaning has been completed. Air hoses will be free of bacteria after cleaning. This is of great importance in the food industry and HACCP associated businesses.
Cleaning air socks
Professional cleaning of air socks is a specialty. It is for that reason that AQ air socks does not outsource its cleaning services. Our engineers will disconnect the air socks and will transport them to our own cleaning site.
This cleaning site includes professional washing machines and dryers. The washing machines are equipped to ensure contaminated air socks are filled at the "contaminated side" and will be emptied at the "clean side". The clean side is certified to operate as a clean room. Air socks are dried, hygienically packaged and sealed in this clean room.
This prevents any cross contamination during and after the washing process.
Afterwards, the air socks will be assembled on site. Is the work to be carried out urgent? No problem: we are flexible and can act quickly.