Cleaning air ducts
Contrary to popular belief, air ducts also get dirty. The level of contamination depends on the level of maintenance of the air handling unit. How often are filters replaced, and maybe even more important, wat type of filter is installed in the air handling unit? To ensure optimal quality of air, ensure the air ducts are cleaned on time.
Advantages clean air ducts
Hygiene & health
Longer lifespan of air system
Energy efficient
Additional expert advice
Our cleaning experts take care of air ducts in:
Non-residential buildings (offices, schools, factories)
Health care facilities (hospitals, nursing homes)
Industrial complexes (utilities companies, textile and food)
Production platform or oil rig
Ships
Correctional facilities (prisons)
Ensuring there is healthy air for employees, visitors and residents. Curious to find out what the options are for your building? Get in touch or ask for a made to measure quotation.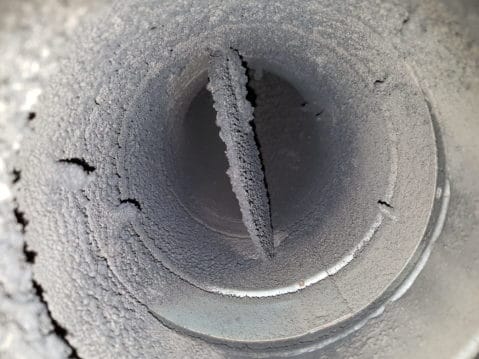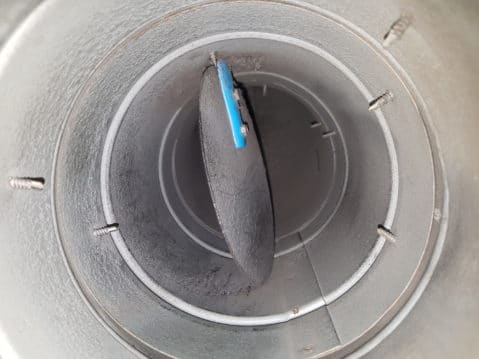 Prevent the following problems with your air ducts
Regular cleaning of air ducts is important to ensure a consistent high level of air quality.
Clean air duct
Air duct after cleaning
Contaminated air duct
Air duct prior to cleaning
This prevents the following issues:
Loss of heat
Condensation / humidity in air duct
Asbestos
Dust, sooth, pollen, bacteria and mould
Extra resistance in air ducts due to contamination
Cleaning methods for ventilations ducts
Sometimes, simple cleaning tools are the best tools to clean air ducts. In other cases, heavier or innovative equipment is required. The best solution depends on the situation itself. Whether we are talking about simple or more complicated cleaning equipment, we only work with the best tools available.
We have the following methods available for cleaning air ducts:
Rotating brushes
Robot camera
Compressed air system
Manual cleaning
Rotating brushes (mechanical cleaning)
Rotating brushes are taking care of all the rotating movements. The flexible axe makes it possible for the system to manoeuvre through difficult turns. An exhaust system will then suck up all the dirt.
Robot camera
The small cameras on our robot will explore the routing of the air duct in your building. It will then send the rotating brushes through the ducts for cleaning. A powerful extractor will collect the dirt on the other end of the ventilation duct. The robot is very small, enabling it to clean the air ducts of most buildings.
Compressed air system (pneumatic cleaning)
Air ducts can also be cleaned using compressed air systems. This system is suitable for circular, oval and rectangular air ducts. Compressed air is very effective when treating persistent scale and dirt. The air enters the ventilation ducts via a hose. A rotating brush is located at the top of the hose.
Manual cleaning
Brushing reels are used when air ducts are manually cleaned by a professional. This is an older method, but still very effective. It is a handy tool for smaller cleaning jobs. Sometimes heavy equipment is not necessary. These different methods enable us to clean every duct and every type of contamination.
We guarantee an optimal result. We close off the duct's branches. Our engineers will brush to loosen the dirt, the exhaust system will suck the dirt from the system. By applying under pressure in the system, dirt will not end up in the work and living areas.
What about different types of air ducts?
A canal house, swimming pool or a modern building owned by a multinational. They probably all have different air ducts. AQ Group's cleaning equipment can be used in different situations. Are your air ducts circular, ovale or rectangular? Our equipment can properly clean all shapes. The size and material of the air ducts won't be an issue either. It might have an impact on our working method, but won't affect the end result.
Cleaning or maintenance of air ducts in your building?
AQ Group employs properly trained and experienced personnel to carry out these tasks properly. We carry out individual cleaning asignments but also offer periodical solutions. Besides cleaning, we also specialize in maintenance, inspection, reconditioning and coating of air handling systems.
NVRL affiliated
AQ Group is a member of the NVRL. Your warranty that we provide an excellent level of service!
You do the maths!
Interested in calculating the savings you can make on absence through illness by cleaning your air ducts? Clean air ducts and therefore working in a healthy working environment can lead to a 66% reduction of absence through illness (source World Green Building Council)! Calculate here how much you can save.