Reconditioning HVAC
Sometimes, just cleaning an HVAC-unit is not enough. The technical condition of air handling units is affected by the weather and environmental influences. By taking certain measures, an HVAC-unit can be restored in excellent condition, meeting current standards and requirements.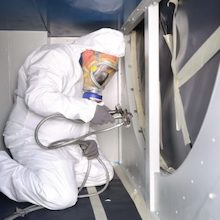 For example:
Applying our special AQ Gietcoating®
Coating of cooling and heating batteries, using our AQ waterbased Condensor Coating®
Replacing hazardous glass wool insulation with harmless thermaflex insulation which has a dense structure
Pulling cooling and heating batteries
Replacing condens tray
Replacing filter frames
Coating construction material ventilator frames
Replacing bearings and balancing of ventilators and engines
Replacing heat recovery wheels
Replacing cooling and heating batteries
We can also our unique, patented AQ Plating® on the inside of your air handling unit. This plastic coating is fire retardant and moulds into a smooth and watertight finish in air handling units.
The seams are welded using a special plastic welding process. Plating is protected against temperatures up to 120 degrees Celsius. This enables us to prolong the technical life span of your installations and systems. It also prevents contamination of air ducts, and all associated consequences.