Maintenance cooling machines and heat pumps
Preventative maintenance secures a high level of business continuity and that your systems are operating when they need to. AQ Cooling carries out maintenance work to different brands of packaged HVAC installations. We offer various maintenance contracts, taking your preferences into account including the number of visits on an annual basis (legally required number of visits as a minimum) and response times or an all-in maintenance contract. A maintenance contract ensures cover from our breakdown service, which is available 24/7.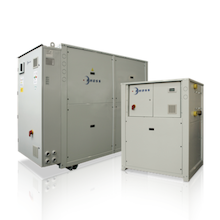 Our engineers are experienced, properly trained and are updated on the most recent techniques on a regular basis. They can be deployed to any site thanks to the necessary certifications (F-gasses, VCA).
AQ Cooling meets all F-gasses regulations. These regulations stipulate how and by whom maintenance and repairs are carried out, and which criteria need to be met by these people and businesses. It also stipulates how often cooling installations require maintenance. We are F-gasses certified, meet all requirements and pay extra attention to the environment, safety and quality.
Products and services cooling and heat
At AQ Cooling , we offer advice, guidance and provide services on sustainable solutions for cooling, heating and ventilation of buildings and industrial processes on a daily basis. Besides 2-pipe and 4-pipe heat pumps, cooling machines, fancoil units and ventilation systems, you will also find a team of motivated professionals at AQ Cooling. Experts, offering advice, support and services to installers, consultants and the industry.
All our members of staff are F-gas and VCA certified. We work for companies for whom cooling processes and climate control are of great importance for running their business and to ensure a comfortable living and working climate.
Want to know more? Check out AQ Cooling's website.