Management of drinking water installations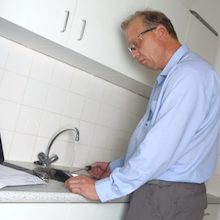 Legislators do not cut corners when it comes to mangement of drinking water installations. Each owner needs to provide safe and healthy drinking water, regardless if it is for a priority or non-priority institution.
Adequate management of drinking water installations is essential to meet legal rules and regulations.
AQ has the right solution. We take care of everything related to drinking water installations and guarantee they will meet all legal rules and regulations on a technical and hygienic level.
We provide advice, carry out intermediate audits, update the legionella risk inventory and ensure the necessary control measures are excecuted. This ensures a continuous healthy and safe drinking water installation.