Cleaning induction and fan coil units
A healthy indoor climate is important for everyone's well-being. Properly functioning climate installation systems are necessary to make this possible. These installations can be seen as the building's lungs. Proper maintenance is therefore very important. This includes periodically cleaning of these installation systems.
An induction or fan coil unit can be part of a climate installation system. This component is often located in dropped ceilings or below office windows. Units are contaminated quickly by dust and bacteria. Units can also be positioned below a window and are often used as window sills. This increases the change of dirt, dust etc to enter the units via the grids, with damaging results. The filters present are often coarse (sometimes made of mesh), which unfortunately does not prevent bacteria from entering the unit.
Importance of cleaning induction and fan coil units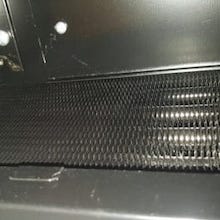 Contaminated fan coil units and/or induction units can cause problems. Contamination brings bacteria and mould in the air and the environment, with all associated consequences. This could, for example, lead to complaints and absence from personnel, the so-called sick building syndrom. Cleaning installation systems keeps the quality of indoor climates at the appropriate level. Leading to the proper well-being and a high productivity of personnel.
In most cases, the investment of cleaning the installation systems pays itself back within a reasonable time. To unburden you completely, we not only maintain air handling units and clean air ducts, but also clean intake grills, fan coil units and induction units. We can guarantee an optimal hygienic condition of the installation system thanks to our extensive knowledge and expertise. We have the right knowledge, experience and tools to clean and desinfect your equipment properly.