Retrofit using EC-ventilators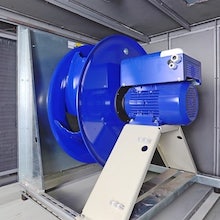 Proper maintenance of air and water systems and installations is very important. Regular and professional cleaning contributes to the quality and lifespan of your systems and installations. The day will come when systems and installations are ready for the next step, like reconditioning your air handling units. We make sure your unit is in optimal technical condition and will last for years.
Upgrade your air handling unit with an EC-ventilator
This means retrofitting, also called upgrading, your air handling unit. We replace the centrifugal ventilator, which requires a lot of manintenance, with an EC-ventilator. You will often see a return on investment within a year! How does that work?
The most important advantages of EC-ventilators:
Energy efficient
Built-in frequency control
Uncomplicated
Operational reliability
Flexible (can communicate with every type of BMS)
Less noise
EIA-grant applicable
Placing these ventilators in your air handling unit will immediately lead to a reduction of costs. The EC-motors are easily operated and will keep an efficiency level of up to 90%. Replacing one large ventilator with a wall of multiple, smaller ventilators reduces the change of outage to almost zero. A longer lifespan is another advantage.
Meeting the latest requirements
Thanks to this upgrade, you will almost automatically meet the latest Energy-related Products (ErP)-requirements applicable to air handling units. This European regulation sets high demands to the efficiency of new air handling units, often requiring larger cases which often don't fit in existing air handling units. Upgrading will become more interesting and, using EC-ventilators, also more financially efficient.
No sparks, so therefore safe
There is no risk of sparks as EC-ventilators do not include carbon brushes. It is therefore possible to place ventilators in explosion-proof areas. With regards to areas where the air handling unit causes noise pollution, it is good to know that EC-ventilators operate quietly.
Energy efficient EC-ventilator for a greener future
Relacing a centrifugal ventilator with an EC-ventilator can be compared to replacing a light bulb with an energy-saving bulb. The energy-saving bulb fits perfectly in the lightbulb's spot. Taking into account the excellent results, affordable solution and short return of investment when using EC-ventilators, an air handling unit with EC-ventilators is the perfect solution for a green future.
Would you like to retrofit your air handling unit with an EC-ventilator? Please get in touch for more information and non-binding advice on the different options and possibilities.