Neuthox
Biofilm often occurs in cooling and process water systems, and can cause significant problems. This can lead to growth of legionella and other dangerous bacteria. Pipes can also become clogged. AQ Group offers the use of Neuthox.
What is Neuthox?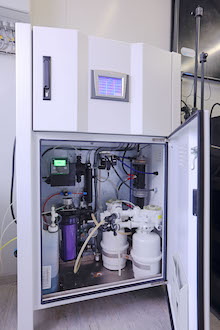 Bacteria like Escherichia coli loses viability in less than 100 mili seconds when exposed to Neuthox. Escherichia coli is the largest cause of foodborne and waterborne infections in people. Neuthox does not only destroy bacteria, but is also effective in breaking down biofilm, which protects bacteria against different types of attacks, including hypochlorous acid.
Neuthos is an effective desinfectant for most bacteria which cause infections in people, such as:
Legionella pneumophila
Vibrio vulnificus
Escherichia coli
Listeria monocytogenes
Salmonella enterica
Campylobacter jejuni
Scope:
Cooling towers
Pasteurisation line
Horticulture
Chillers
etc.
DCW generators can also be configurated to produce two seperate solutions:
Cathox (a solution which  mostly consists of sodium hydroxide)
Neuthox (desinfectant which contains hypochlorous acid)
Neuthox can be added directly into your system or installation, or in a buffer tank in case of a variable demand. This is when a sensor operated pump will adjust the dosage to the bio-burden in your system or installation. The only requirements for our generators to work properly are a supply of salt, water and electricity.
The generators are controlled by a PLC with easy to operate HMI (human machine interface), enabling the end user to control the pH-level of Neuthox and to safeguard the correct dosage levels for any specific usage.
Advantages
Technology without dangerous chemicals
Desinfectant liquid prepared on the spot, non toxic and biodegradable (environmently friendly)
Destroys all bacteria and micro organisms, and is effective in breaking down biofilm and mucus
Increased safety of food: safer water with a higher level of reliability
Cost reduction due to, amongst other things, lower energy usage and not using chemicals