Cleaning cooling towers
You want to get the best team available to clean your cooling towers. That's why we would like to get to know you. We are AQ Group, we specialise in cleaning cooling towers and a lot more! We offer an integrated package of products and services whereby we combine quality with cost efficiency. We are aware of the importance of the work we carry out.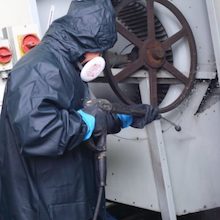 It is for that reason that we keep track of all developments in our professional subject area and we have various accreditations and certificates. AQ Group is certified in accordance with ISO-9001, ISO-14001, ISO-45001, VCA**, BRL-6010 and BRL-K14010-1. Getting involved with AQ Group means you hire professional experts who will thoroughly clean your cooling towers.
Outsource all your maintenance work
Competition is fierce in most branches. It is therefore important that you can focus on your core business, doing what you are really good at it. If you focus on that, the chance of success improves considerably. However, this does not mean losing sight of other issues, like maintenance. These can be outsourced.
For example to AQ Group. We are happy to take over maintenance work of your cooling towers. This is our core business. And if we do what we are good at, you have more time and capacity to invest in your most important tasks. A win-win situation!
The best service provider
AQ Group has an important mission: we want to be the best service provider in overall hygienic maintenance. We can't do this on our own: we need personnel. All our members of staff are experienced, properly trained and extremely motivated to do their job to the best of their ability. They also have access to the best equipment.
We use state-of-the-art tools and equipment, ensuring we can keep our customers' climate and (drinking) water in excellent condition. We have noticed an increase in the need for clean climate and drinking water systems and installations, and ensure we can respond to this in an innovative and professional manner.
Actively cleaning against legionella
Cooling towers are very susceptible to the growth of legionella, which is one of the most important reasons for regular and thorough cleaning of cooling towers. Limescale can develop quickly in cooling towers, which often combines with a type of contamination which is very attractive to legionella. Cleaning cooling towers on a regular basis is therefore very important.
We will make sure your cleaning towers are cleaned properly, to prevent a breeding ground for the legionella bacteria. The efficiency of your installation also increases due to cleaning. This will lead to a reduction in exploitation costs, and therefore a quick return on investment. That's a smart way to do business!
Leave cleaning your cooling towers to a professional
Are you also convinced cleaning your cooling towers should be done by a professional? Get in touch with us today. You can use the contact form on our website. Just leave your contact details, and we will be in touch as soon as possible.
You can also get in touch with us directly. Via email at info@aqgroup.nl or by phone at 088-123 34 55. We are happy to tell you more about the different services we provide, our rates and which results we can achieve for you. Your cooling towers are defintely in good hands at AQ Group!